List on The MLS for a Flat Fee. Packages start at $95.
Sell Your Home
without

Paying a Costly

Commission
Why We Are Better
*We are Local – Located in Cameron Park, CA and service the cities of: Antelope, Arden-Arcade, Cameron Park, Carmichael, Citrus Heights, Davis, El Dorado Hills, Elk Grove, Fair Oaks, Folsom, Placerville, Rancho Cordova, Roseville, Rocklin, Auburn, Sacramento, and Shingle Springs.
*Customer Support is handled directly. You won't be pushed through a National Customer Support line. All support will be handled by Real Estate Broker, Mathew Berg.
*You will not work with just an Agent but a more knowledgeable Licensed Real Estate Broker that will provide you a higher level of support and exposure than other For Sale By Owner (FSBO) listings.
*No hidden fees, up-selling, or nickel-and-diming you on cost. National Flat Fee Companies will have a low introductory fee but then charge for price changes, open house listings, or any update you may want to apply to your listing. WE CHARGE ONE FLAT FEE.
*Your listing will be seen by Buyer Agents representing motivated home buyers. The listing will be seen on Realtor.com, Redfin, Coldwell Banker, Zillow/Trulia and many other Real Estate sites.
*We are Family Owned And Operated & Have Been in Business Since 2004 for IL & 2013 for CA.
* Mathew Berg leverages the support of Berg Properties and the expertise of Scott and Mike Berg who have sold over 1,800 properties in the area of Chicago. As agents in Chicago they are ranked among the top 1% in sales volume.
* 100% Money Back Guarantee: Try It for 7 Days And If You Are Not Completely Satisfied Get Your Money Back
* Mathew Berg is a Member of the Sacramento Association of Realtors, California Association of Realtors and National Association of Realtors.
Questions?
Contact:
Mathew Berg
530-558-5460
[email protected]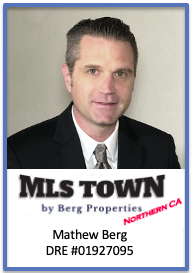 Real Estate Broker
DRE #01927095

Mathew Berg is a Local Sacramento Real Estate Broker leveraging the support of Berg Properties and the expertise of Scott and Mike Berg who have sold thousands of properties in their Midwest Flat Fee Service area where they are ranked among the top 1% of Real Estate Agents in sales volume